Description
4 oz Clear PET Plastic Bullet Round Bottle – 24-415 Neck Finish
A 4 ounce PET Bullet is great for body sprays and perfumes and its small capacity is perfect as a convenient travel size. Also known as a Cosmo and Silhouette, the possibilities are endless when you pair with a pump, fine mist sprayer or continuous thread closure.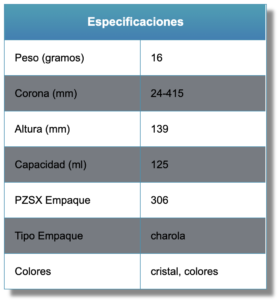 Prices do not include freight and applicable taxes. A minimum purchase is required.
Average price for freight, dry 53' box truck:
Laredo, MX Border: $1,430 USD
Tijuana Border: $2,450 USD
Envases BH is one of Mexico's largest producers and manufacturers of PET* bottles and containers. Our products and Factory are certified, and we work under the most rigorous and the highest standards in the industry. We have over 20 years of experience and an excellent reputation of quality and customer service.
Our factory is located just outside Mexico City and we own and control our own fleet of delivery trucks that cover the national Mexican Territory and can deliver products to any border town in record time.
Some of the benefits of PET (Polyethylene terephthalate) include: 100% transparency, recyclable unbreakable, inexpensive and light weight.
Contact us for a detail quote and to arrange delivery at:      
Email  admin@envasesbh.mx
Telephone (Mexico) 011 52 555 824 7722
WhatsApp (Business)  55 5989 9838