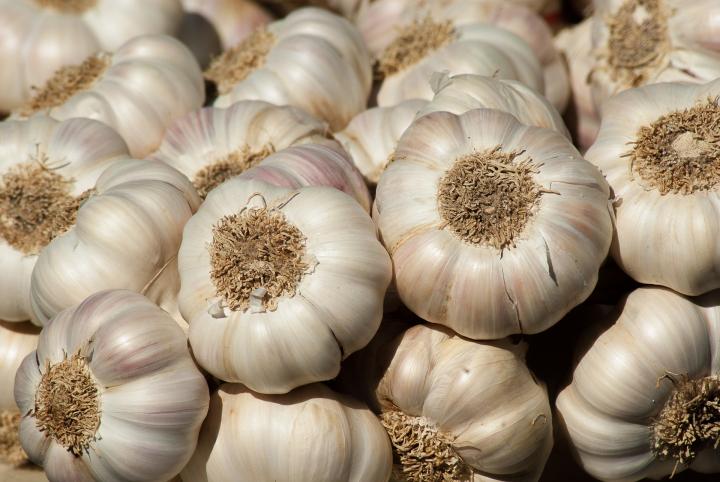 Garlic is such an essential part of cooking, especially in our Mexican culture. We also use it for medicinal and cosmetic purposes. The other day I was walking through my local Vallarta supermarket in Los Angeles and picked up a bag of garlic. When I was looking at the bag, something stood out to me – I saw that the garlic wasn't from the United States or Mexico – it was from China. I thought about all the garlic farmers I have seen in California, many of them Mexican. I also remembered seeing people picking garlic in the Mexican fields.
I started wondering why we get our garlic from China, instead of supporting the garlic made by our own people. I was surprised that in the second largest Mexican populated city in the world, Mexican garlic wasn't being sold. I then found out that 90 percent of the garlic in the United States comes from China. However, the garlic we get from China comes from questionable sources. There have been several allegations against Chinese garlic suppliers, especially Harmoni Industries, for failing to adhere to sanitary and hygienic protocols. There's also evidence that some Chinese garlic companies use forced prison labor to peel their garlic. Not only is this garlic potentially dirty, but there is also a moral component. We should not support companies that use illegal and inhumane methods to lower their prices and give them an advantage over companies that follow protocols. 
The United States is the largest importer of garlic. The garlic industry makes about 40 billion dollars of global revenue each year. We should use this need for garlic and the economic benefits to support Mexican farmers who cannot find ways to sell all of their harvest. Some garlic farmers in Zacatecas end up keeping up to 60 percent of their garlic supply because they cannot sell it. With Covid-19, the prices for importing Chinese garlic have increased. This has increased demand for Mexican garlic, which has caused the price to drop. Therefore, purchasing Mexican garlic may be more cost effective as well. If we support Mexican garlic businesses, the prices will continue to drop, and product will not go to waste. We will also pump more of our money into the Mexican economy, which will benefit our family and friends. It's time to positively impact both the Mexican and American people and economies, and we can do this by supporting Mexican garlic companies.
Juan Pablo Norris
Progresando.com